Dr. Michael Nagel
Staying in the Game With Chiropractic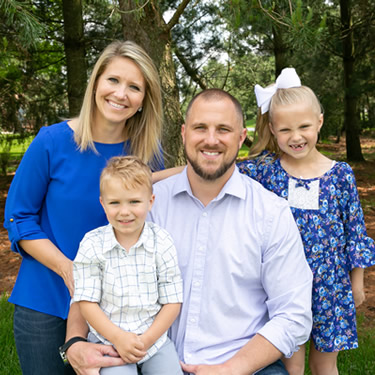 As an athlete, Dr. Mike had long had issues with his ankles. Fortunately, he started dating a woman whose father was a chiropractor. This chiropractor happened to be Dr. Ron Kantner. The orthopedist had told Dr. Mike that surgery was inevitable and he would have to stop playing sports. After getting his ankles and back adjusted, the problems disappeared.
An Education in Natural Health
To complete his undergraduate education, Dr. Mike attended Ohio State. Then, it was onto Palmer College of Chiropractic in Davenport, Iowa. There, he played rugby with no further health-related issues. Being a member of the team allowed him to travel the country and work with alumni and his fellow athletes, who would all work on each other. Much of their chiropractic is preventative. This approach guided Dr. Mike to his practice philosophy today.
I want people to not just see the short-term benefits of chiropractic but the long term as well! It allows me to perform my best at the highest level and improve my overall well-being!"
The various courses Dr. Mike has taken include topics such as Diversified, Flexion Distraction, Extremity adjusting, Gonstead, SOT technique, and Thompson drop technique. By having many methods at his disposal, he can help nearly anyone achieve their health goals.
EXPLORE CHIROPRACTIC »

Making the Most of Family Time
Outside of chiropractic, Dr. Mike is all about his family. He is married to Shelly and they have two children, Cecilia and Max. When he isn't with them, he likes to be outside golfing and staying active. Dr. Mike is a member of the local Chamber, Rotary, and Sertoma club in Wapakoneta. Contact us today to book an appointment.
---
Chiropractor Wapakoneta | (419) 738-4373